The largest tradeshow in North America, ConExpo-Con/Agg, smashed attendance records of 139,000 visitors during March 14-18, 2023 in Las Vegas, NV. The hub of excitement at ConExpo 2023 was centered around the brand-new West Hall facility. K.A. Group's brands of K-Tec, Ashland, and Metalcraft were prominently featured right inside the West Hall's main entrance doors at booth #W40231 with a footprint of nearly 20,000 square feet.
ConExpo 2023 appeared to officially signal the shift from traditional methods of earthmoving equipment away from motor scrapers, or excavator and rock truck operations, in favor of the more economical, and fuel friendly pull-pan scrapers. Contractor education was key in explaining the pull-pan scraper advantages of having only one operator, with one engine running, to load up a heap of dirt by themselves, transport the material down the haul road, and smoothly spread out the load in the fill area.
K.A. Group showcased K-Tec's 1228 Train scrapers, with the ability to carry a tandem heaped capacity of 56 cu.yds. positioned behind a Case IH 555 wheeled tractor. With this set-up of tandem scrapers, contractors can essentially double their production output by using two scrapers at a time, instead of just one.
When walking the expansive 2.8 million sq.ft. of ConExpo, out of the 2000 exhibitors, a trend was also established in the shift of manufacturers providing scrapers that attach behind Articulated Dump Trucks. While this appeared to be a newly released concept by several of the manufacturers, K-Tec is the brand that pioneered the Articulated Dump Truck Scraper concept all the way back at ConExpo 2008. These ADT scrapers are a versatile and economical method of earthmoving for contractors to utilize their existing, rugged earthmoving equipment fleet of rock trucks as scraper haulers. K-Tec's hitching system makes no permanent modifications to the ADT, and it takes about 1 day to convert from rock box configuration into the scraper hauler application. In the K.A. Group booth, under the theme "Earthmoving For Everyone",  various branded ADT's of Volvo, Caterpillar, Komatsu, and Rokbak were connected with K-Tec models: 1228ADT (28 cu.yds), 1237ADT (37 cu.yds), and 1237ADT Trains (74 tandem cu.yds), to contractors that there is a scraper solution for whatever brand and size of rock trucks they currently have in their fleet.
For the contractors that have jobsite safety in mind, the K-Tec EJB4X Ejector Body was fitted on the back of a Volvo A45G. The EJB allows for trucks to safely eject loaded material in areas with reduced overhead clearance.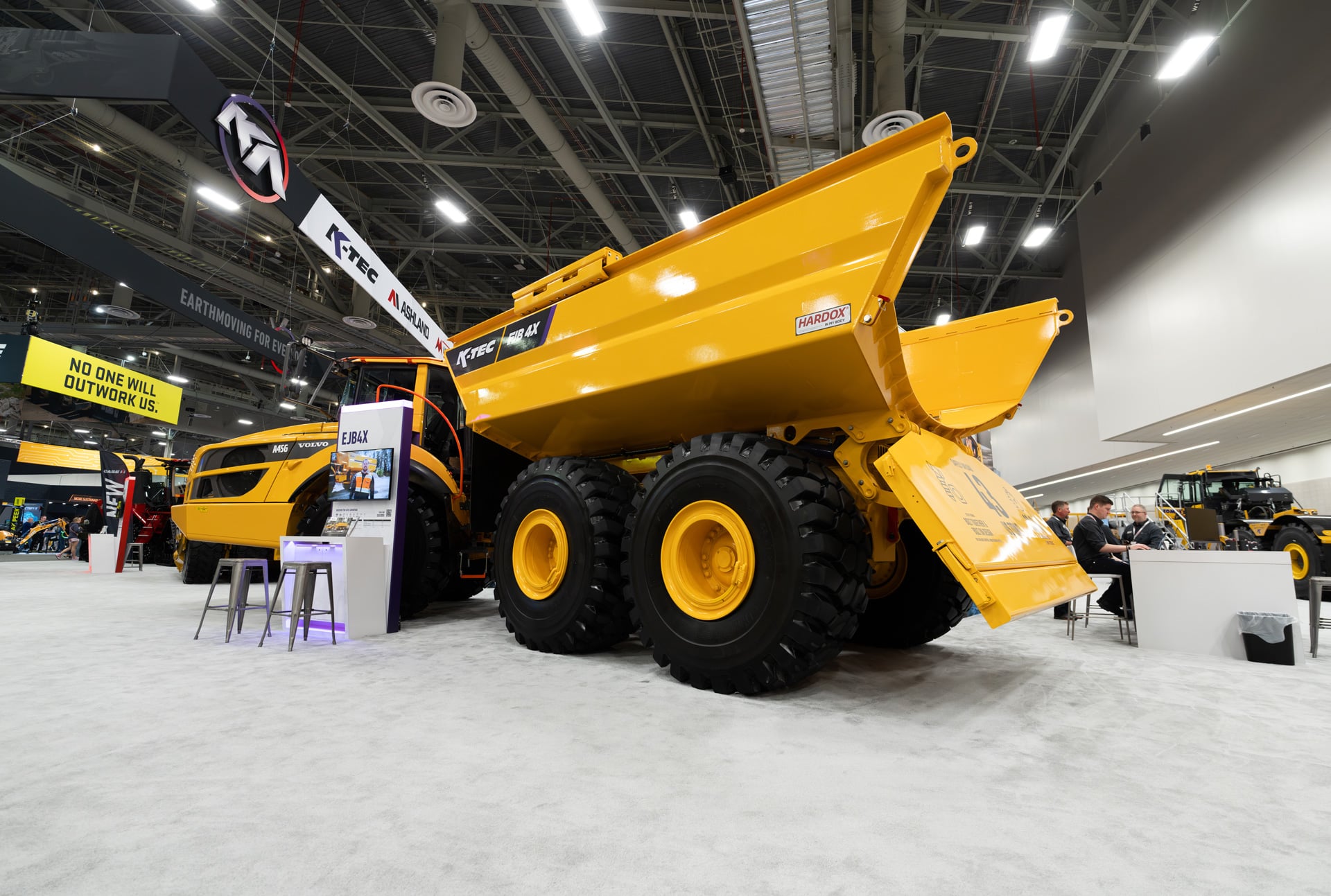 K.A. Group's earthmoving implements zone showcased a variety of complementary attachments that the organization offers through its worldwide dealer network including a newly designed 12' wide roller Land Leveler with double-tilt functionality.'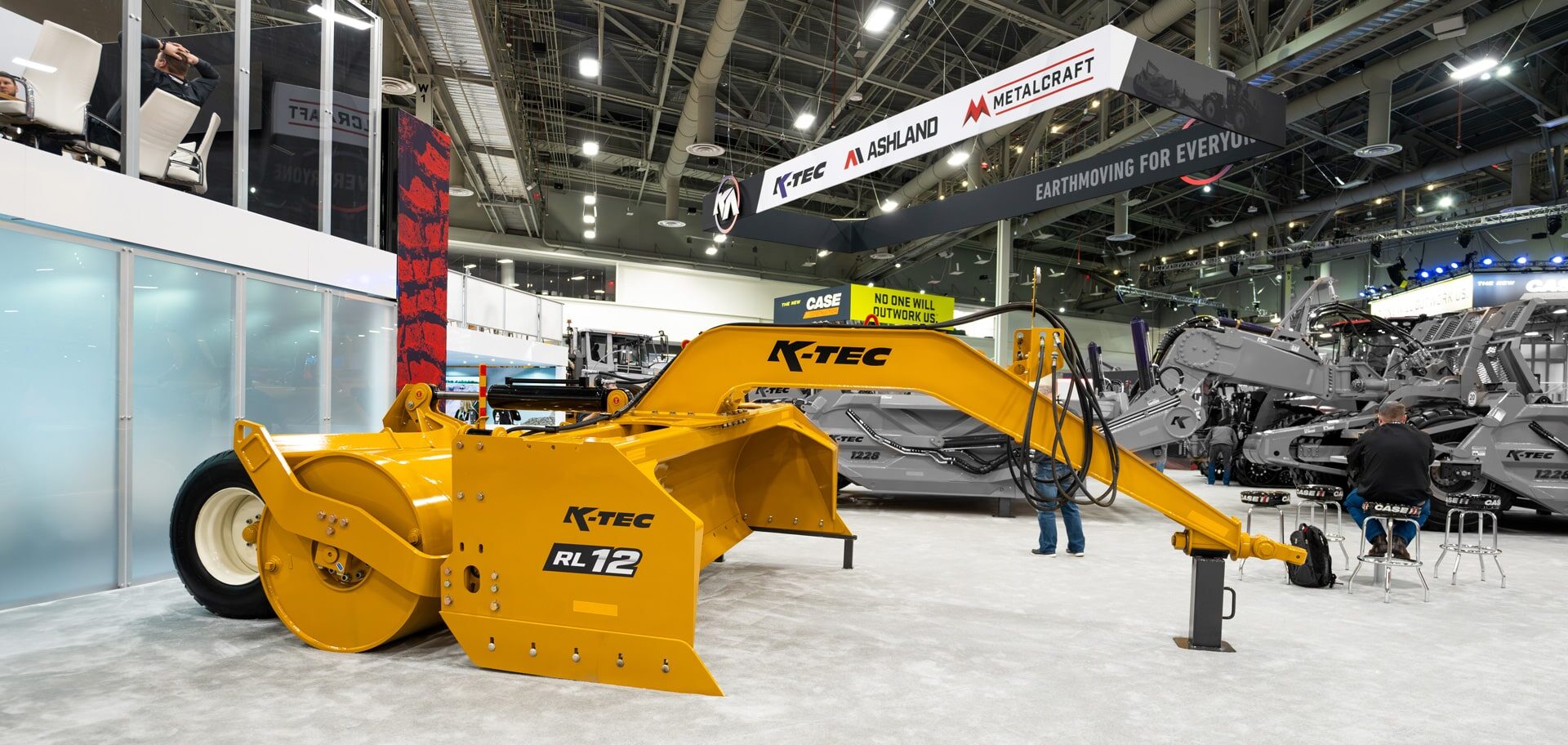 K-Tec also hosted several special guests in the booth consisting of Tony Beets, and John Hunter Nemechek. Booth attendees lined up daily to meet Tony Beets, The King of The Klondike, from the TV show 'Gold Rush'. They were able to grab Tony's autograph and ask him about his two new K-Tec 1237ADT earthmoving scrapers used for gold mining. John Hunter Nemechek made an appearance Thursday afternoon at the K.A. Group booth to sign autographs for NASCAR fans. He is a champion American professional racing driver, currently competing full-time in the NASCAR Xfinity Series, driving the No. 20 Toyota Supra for Joe Gibbs Racing. K-Tec, ROMCO, & John Hunter Nemechek agree that faster cycle times lead to winning results.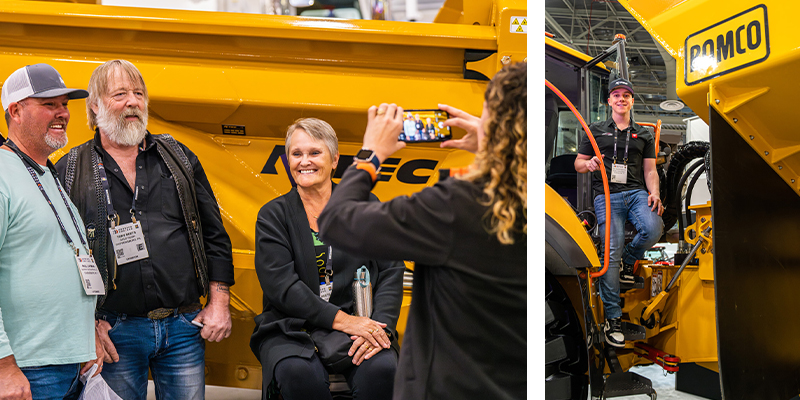 In the K.A. Group booth, K-Tec's scraper specialists were available to assisting attendees in assessing optimal earthmoving jobsite solutions. In addition, a team of design engineers and service technicians were also present to answer any technical inquiries for attendees to gain education on what makes for an effective earthmoving equipment selection.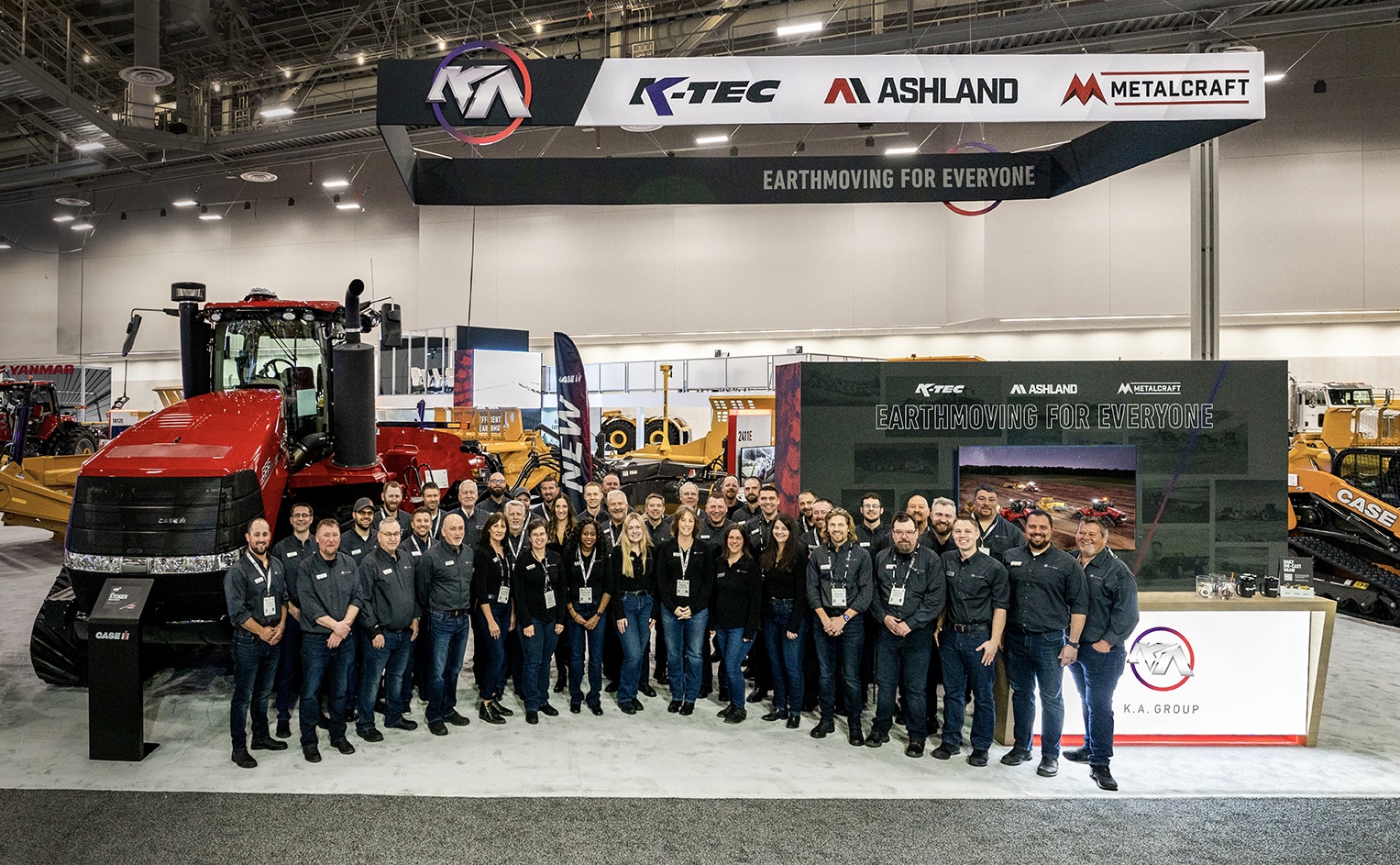 Overall, ConExpo-Con/Agg 2023 was a huge success, where contractors walked away with many new ideas and fresh insights to grow their businesses. Many customers, dealers, other equipment manufacturers, and attendees witnessed the efficient mining and heavy construction earthmoving solutions offered by K-Tec.
No matter the size of your earthmoving project, what brand of power units you currently have, or the material you need to move, the K.A. Group has an earthmoving solution. As a pioneer and innovator in the scraper industry, K-Tec is confident that their machines will improve the versatility and productivity of your earthmoving fleet.
If you're interested to learn more about how K-Tec machines lower your earthmoving costs, please visit ktec.com or contact us at sales@ktec.com.
Article Written by Shane Kroeker, Director of Strategic Initiatives, K.A. Group