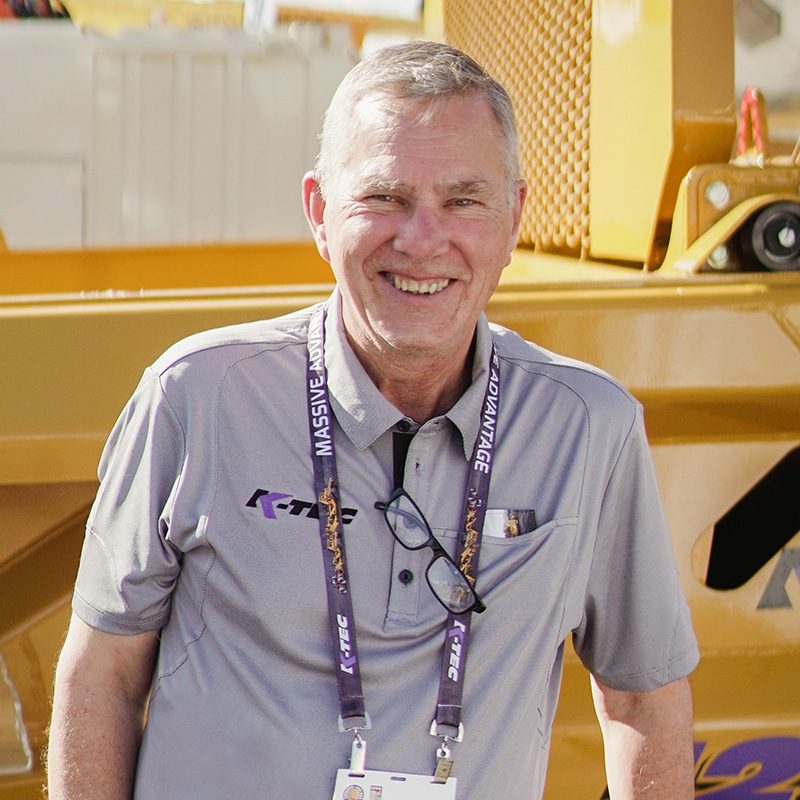 WELL DESERVED RETIREMENT
After 7 years of dedicated service, Dave Wittenberg has announced his retirement from his position as Sales Account Manager for K-Tec / Ashland. Dave joined the company in 2015 taking on our Western North American dealer accounts and continued on to become our dedicated Australian National Sales Manager. Throughout his years on our team he has been a key factor of the growth phase of our business. Dave always stepped up to serve our customers and ensure all of their earthmoving equipment needs were met.
"We appreciated Dave's extensive experience and insights into the sales process while being able to build valuable and long-lasting relationships in Canada, the United States, and Australia. Dave will always be a part of the K-Tec family and we hope he'll keep in touch as he enjoys his retirement."
– Kelly Goossen, Chief Business Development Officer
"On behalf of the entire DOM Distribution team, we wish Dave all the very best for his retirement and the enjoyable times ahead! We have always appreciated the extra time and effort Dave invested into understanding the dynamics and challenges of the Australian earthmoving industry. We are grateful for Dave's timely responses to breakdown support (sometimes around the clock given the challenging time difference between our countries). Dave's effort to work closely with the DOM team and our customers to supply feasible parts and machinery solutions and ensure best outcomes for us despite long lead times and international shipping challenges has always been admirable. Our team has been exceptionally blessed to have had so many wonderful times with Dave, whether it be visiting earthmoving projects in tropical far North Queensland, the outer suburbs of Sydney, in the dust of the Western Australian goldfields, under the Las Vegas lights or in the beautiful Canadian countryside. Dave is exceptionally well regarded amongst our many earthmoving clients and staff alike here in Australia, and could always be counted on to recommend the perfect wine to accompany any meeting conducted over a meal! We've been very fortunate to have Dave at the helm for the K-Tec brand in our part of the world and thank him for his service and dedication to K-Tec and DOM. Dave – you will be missed! (Full Stop)"
– Natarsha Collins, DOM Distribution
"It has been a pleasure and an honor to work together with Dave here at K-Tec / Ashland. His sales wisdom was invaluable to our company and we look forward to continuing the strong relationships he built well into the future. I am very excited for Dave to be able to move into retirement; however, he will most certainly be missed."
– Mike Palitsky, Chief Executive Officer
Going forward, Allan Friesen will be taking on all of Dave's responsibilities and we have full confidence that he will continue on growing the relationships the Dave built. We wish Dave all the best as he enjoys some much-deserved time off!