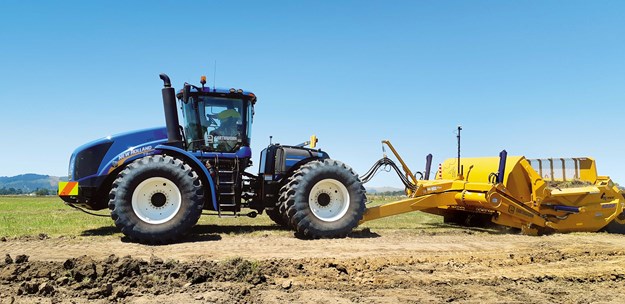 Massive Machine
Moving Mountains
Norwood has imported the biggest tractor yet seen in New Zealand — a New Holland T9.670 scraper.
It sits 4.2m wide x 7.5m long.
The 600hp from its 12.9L, 6-cylinder turbo diesel engine is delivered to the ground by dual tyres all round, making the tractor an impressive sight.
The tractor is operated by Matt Mead, the owner of Earthwork Solutions, Gisborne. It is on hire from Norwood Hire Division, managed by Greg Moore.
Mead visited Australia where the tractors are more common. There he visited a customer who operates the same tractors and then settled on a scraper scoop for the New Holland to tow.  He uses the NH T9.670 to pull a 28 cu.m K-Tec 1228 scraper, which it fills in no more than 30 seconds. Its fuel consumption is impressive at only 37L/hour.
"I have another smaller scraper, a 10.7 cu.m too, which is towed by a 295hp tractor," Mead says.
"The T9.670 is moving twice as much dirt in roughly the same time while using less fuel.
"We also settled on the T9.670 to look at the option of towing a second K-Tec 1228 scraper in tandem.
"After seeing what the big tractor is capable of we are seriously considering doing this."
To ease the load of the capital outlay, Mead has hired the T9.670 from Norwood Hire for the first 12 months of his operation.
He says having Norwood nearby in Gisborne as the local service centre was a big part of his decision making process.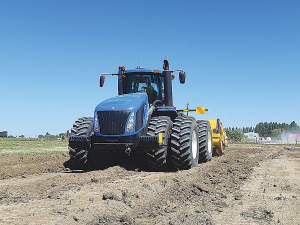 New Holland T9.670 scraper.
THIS ARTICLE WAS FEATURED IN: