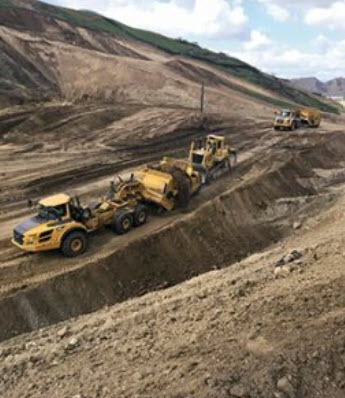 Tight deadlines and tighter margins, combined with a shortage of skilled operators, have made the addition of advanced technology for heavy equipment such as scrapers and motor graders crucial.
A change in the industry a few years ago took most of the experienced operators out, while the economy is "coming back quickly," the operators aren't. Because there are not enough operators to keep up with the demand, it's important contractors have the right machine to both attract experienced operators and assist inexperienced ones.
Equip the guys with the technology to overcome their lack of experience.
Smooth Operator
An effective operator makes a difference for a company, says Shane Kroeker, marketing manager, K-Tec Earthmovers. But, he adds, previously in the industry it's been hard to find quality operators. "It's a complex task in an environment that is ergonomically uncomfortable."
Because of the shortage of operators, there is more of a focus on the operator when it comes to design. An operator has more say in the machine now. "We try to make the machines easier to use," says Kroeker. That includes offering onsite-training.
It's all about whatever the operator likes better and improves productivity to help him get to grade more quickly with fewer passes.
Some customers run a single pan, some a double, carrying 74 cubic yards of material. Visibility is important no matter how many pans an operator runs. K-Tec's ADT scrapers reposition the factory truck back-up camera at a lower angle to visibly see the cutting edge engage the ground on the high-resolution display for comfort and efficiency.
Regardless of the number of pans, an accurate cut with minimal overlaps is important. Active command steering helps hold the tractor and the pan in line without any corrections, without fishtailing.
Credit: K-Tec
A K-Tec A40F leads the way
Productivity
Whether it's getting to grade faster or hauling more material, productivity is the goal. Many factors contribute to productivity, from operator comfort to electronic technology. K-Tec's automated load control is easily visible on the operator's display screen; it refines automatic load count and allows the operator to see the record of the number of loads completed. It also provides service reminders for scheduled intervals, daily greasing, tire pressures, and more.
K-Tec machines are Trimble GPS-ready from the factory, but some technology comes straight from the factory. "We have three core technologies built in," lists Kroeker. Load Tec is a hitching system that distributes the load weight of a full scraper for better balance and better pull: 75% on the scraper's axle, 25% on the tractor's. Tensile Tec involves high-tensile plate steel at high stress. "The goal is lightweight, strong structural stability." Lube Tec means fewer grease points, one-minute grease points, and greaseless bushings for less time spent on maintenance.
Additional features include an automatic cushion ride function with a shock absorber for a smoother ride. "You can travel faster on the haul roads and complete more cycles," says Kroeker. This feature also limits wear and tear. Their pull grader land leveler helps maintain haul roads and get to finish grade, while a drag box picks up high levels and fills in low levels, allowing an operator to obtain precision.
Getting to grade faster is important, but how it's accomplished can vary.
Versatility and options are conducive to increased productivity.
While tires and an ejector pan are the most popular options typically, the choice depends on the site. On the machine body, tires work best in top soil, clay, and gumbo. Tracks are better when conditions are less soft underfoot. Ejector scrapers are better suited to push stickier material. If you have multiple applications, work with the softest option.
Productivity and efficiency go hand-in-hand. By limiting the top revolutions per minute, the machine is able to run in a more efficient place on the engine for fuel savings.
Those aren't the only savings to be had. Compared with traditional earth-moving equipment, Pull pan ejector scrapers are one-third of the initial investment, with half the labor (because it requires only one operator). It is 50 cents per cubic yard of material cheaper when moving.
"Our scrapers have always had a lot of technical advances—such as self-loading machines, cutting edge angles, and bolt-together designs. Technology is in our name," says Kroeker proudly. "We were the pioneer, introducing the first ADT scraper at ConExpo in 2008." They converted an articulated dump truck into a scraper and by doing so, it showed contractors that they could use their existing fleet of trucks.
Advantages include the fact that the conversion is familiar; the driver already knows the machine, so the learning curve is brief. Whether it's a converted machine or a machine that mimics features found in other vehicles, that familiarity can play a significant role.
A simple example of a familiar design is facing the operator forward in a comfortable cab. K-Tec even added a joystick and padded arm, as well as an operator display system. Another benefit of the conversion is that it is completely reversible because it uses bolt-in components.
The beauty of cutting-edge technology is that it can make an inexperienced operator proficient, but even the best operators can benefit from it.
THIS ARTICLE WAS FEATURED IN: