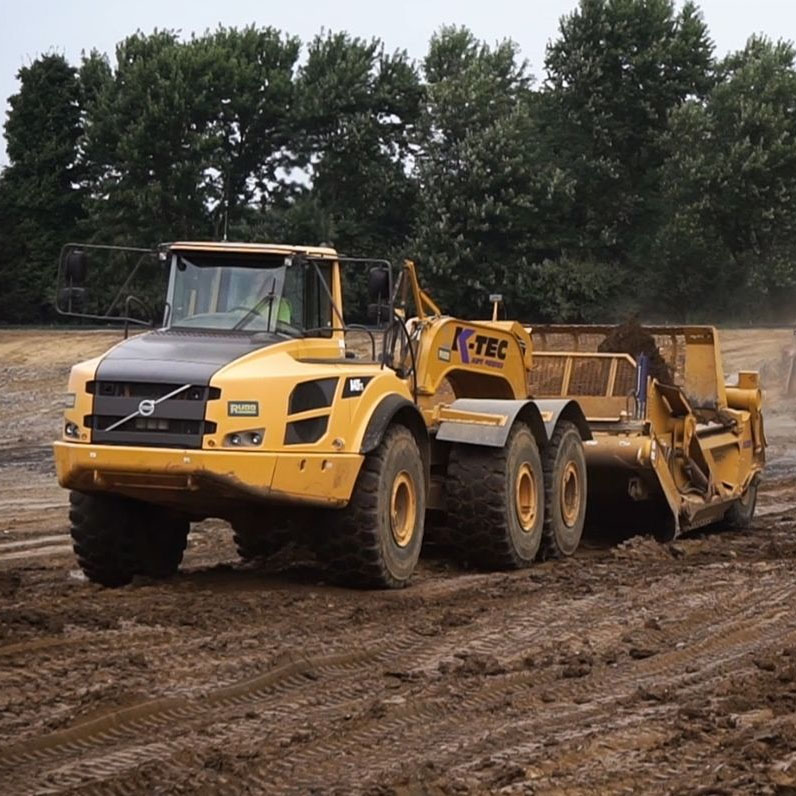 America's Largest Landfill
Bloomsdale Excavating Company, Inc. performed the site preparation work for the nation's largest landfill. Moving over 1.2 million square yards of dirt, Bloomsdale delivered high quality work, met an aggressive production schedule, as well as providing a cutting edge, competitive bid.
Most landfills operate year-round, so conditions are constantly changing. The weather can have a big impact on the work site. This can range from rain and mud to wind and dust. In northern areas snow and frost can also create challenges. During the pre-waste acceptance period, a lot of earth needs to be moved. Landfill operators dig as deep as they are permitted as one means of maximizing the amount of waste they can accept, and thereby increasing the longevity of the landfill. Scrapers or excavators are the most popular excavation equipment.
For example, K-Tec scrapers were essential in performing the site preparation work for the nation's largest landfill. Bloomsdale Excavating Company Inc. used the K-Tec scrapers to move more than 1.2 million square yards of dirt and meet an aggressive production schedule.
One of the major contributors to meeting this schedule was the state-of-the-art equipment Bloomsdale supplied. With new K-Tec pans and specially designed Volvo trucks, Bloomsdale had the extra resources needed to move quickly. The Volvo trucks feature individual suspension systems for each of their six tires. The additional stabilization and speed allowed Bloomsdale to move significantly quicker."Bloomsdale has exceeded our expectations in every way. They have delivered a quality job faster and less expensively with a combination of outstanding equipment, operators and management." – Chris Landoll, Project Manager, Prairie Sate Energy.
THIS ARTICLE WAS FEATURED IN: