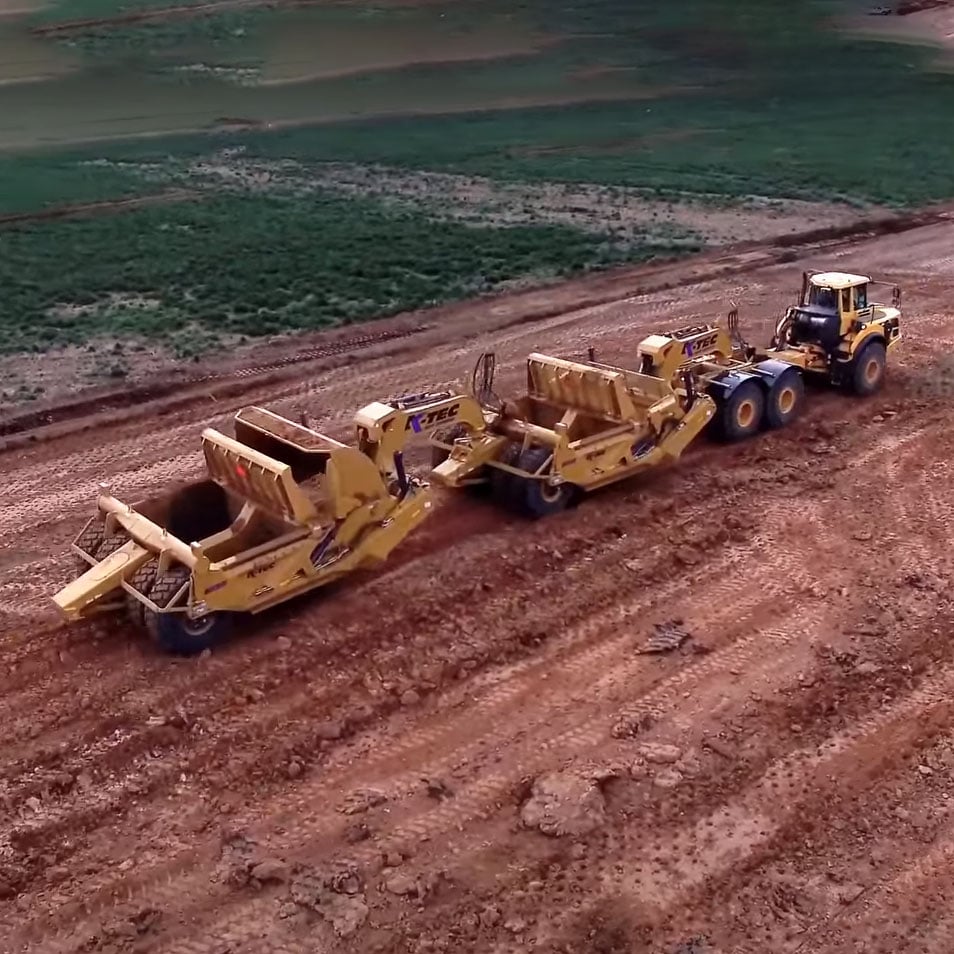 Wayne "Dirt" Dworaczyk, owner of Dirt Works in Blanco, TX finds plenty of ways to use the two scrapers he purchased from K-Tec Earthmovers Inc. An experienced contractor in all phases of road work, site work, and every type of commercial and residential grading and excavating, he specializes in lakes, water features, and ranch work – specifically, ranch roads. "We move dirt onsite at air strips sometimes," he says. "But mostly we do lakes and ranch roads."
"A lot of people are moving here from California," Dworaczyk continues. The area between San Antonio and Austin has seen increasing sales of ranches to out-of-state buyers attracted by the region. "They buy ranches, clear them, and sell them. We use scrapers to enhance the properties." Because it's a dry area, he explains, lakes add value to a property. Roads of course, provide beneficial access.
Dirt Works, established 14 years ago, is currently adding eight new lakes and 10 miles of fresh roads at one ranch. "It has wildlife now, but it used to have cattle," Dworaczyk notes, adding that the buyers usually maintain these ranches; development isn't typically performed.
Affiliated with the construction industry since he finished highschool in 1979, Dworaczyk has worked in all areas of excavation, from scraper crew to backhoe and dump truck operation. He is familiar with underground piping, utilities and foundations, having laid major water and sewer lines for Garney Companies, one of the country's top utility contractors, located in Kansas City, MO.
In fact it was there, while in charge of digging and laying pipe and doing backfill and finish work, that he got his nickname, Dirt. The man knows dirt and how to move it. He owns two 36-cubic yard K-Tec 1236 scraper models and has been leasing two of K-Tec's most popular 33-cubic yard 1233 scraper models.
Featuring an extendable rack and sidewalls, the 1236 has the best load-to-scraper weight ratio and the lowest cost per yard of any unit in K-Tec's lineup. The 1233, K-Tec's most popular model, is a multipurpose machine that works in any soil condition with unmatched fuel efficiency. It can be used in a train for a tandem heaped capacity of 66 yards. Both work well on the clay and caliche soils common in east Texas.
Caliche material is chalky, between clay and rock, of which there is also plenty. "This is hill country," Dworaczyk says. There is a lot of rock. We're often building on hillsides, moving materials. Nothing is flat here." Thinner rock from ledges is hauled with his scrapers, but he mills thicker rock 8 inches deep with a 10-foot-wide Iron Wolf milling machine before picking it up with the scrapers or top-loading the small rock.
The scrapers can even work in certain wet soils. "There's a lot of underground water around here, but we can still work with wet clay," says Dworaczyk, although if he's working in "sloppy mud," he uses an excavator to top-load the scraper. It's still the most efficient piece of machinery for this kind of work, he says, because "with trucks, you need extra equipment to knock down a job."
In addition to moving dirt with the scrapers to build road, Dworaczyk uses them to build dams.  After separating the topsoil, the clay, and the rest of the dirt is used as the core of the dam to stop water migration.
No matter what project he's working on, productivity is one of the reasons he uses the K-Tec scrapers. "There's lots of dirt to move in the bottom of a lake. The K-Tec scrapers can move 30 yards at a whack. We moved 126,000 yards of dirt on one dam," he recalls, explaining that they work off grade skates and push the dirt with a D6 dozer.
"Cost is a big thing," too Dworaczyk says. Pointing out that he gets better fuel economy with the tractor pulling a scraper, as opposed to using an articulated dump, he adds that because there has been so little maintenance required, the cost of the machines is less than renting. The scrapers are backed by a three-year structural warranty. "I hope business keeps up this year so we can purchase a couple more scrapers."
THIS ARTICLE WAS FEATURED IN: