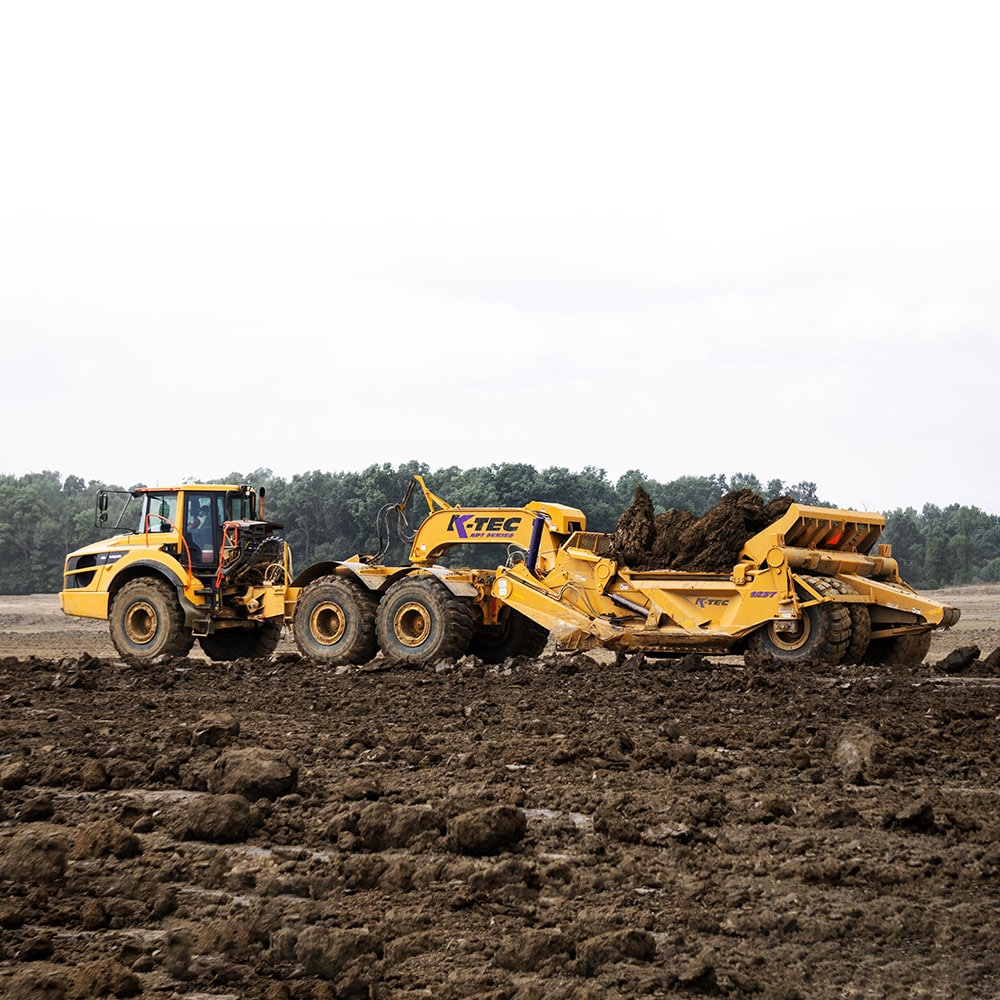 Efficient Scrapers Shrink
Carbon Footprint
Construction and mining professionals have realized advantages in earthmoving, by pulling purpose-built scrapers with Articulated Dump Trucks (ADT's) or Rigid Frame Dump Trucks (RDT's) as power units.
Headquartered in Rural Manitoba, K-Tec designs and fabricates high-capacity, efficient earthmoving equipment. K-Tec is considered an industry trailblazer as the first scraper manufacturer to harness the pulling power of an ADT's & RDT's as a power-unit for self-sufficient earthmoving. The fuel-efficient ADT adheres to Tier 4 final emissions regulations, and has vast efficiencies in fuel consumption compared to traditional motor scrapers.
The most popular paring of equipment for efficiency is using a 40 Ton Articulated Dump Truck with over 400HP to haul a K-Tec 1237ADT 37 cubic yard scraper model. K-Tec scrapers may be used with a variety of ADT model manufacturers including Volvo and Caterpillar. K-Tec's gooseneck scraper design, along with a model-specific truck hitch may alter an ADT unit to haul more material for jobsites and mines.
The cycle-time to move material with this setup is rapid, when considering the ease of loading and unloading, haul road speed, and overall flexibility. Construction sites and mine pits are reaping the benefits of cost savings on fuel and labor when using the 1237ADT scraper on the jobsite.
Earthmoving contractors have benefitted by being able to move larger amounts of dirt, resulting in less cycle trips and burning less fuel into the atmosphere. Advantages are gained over smaller earthmoving equipment, as less trips to the dump site equates to money savings by trimming out wasted driving labor and fuel costs. The use of a high-horsepower ADT, also helps minimize the driving time on the haul road, as the even weight-distributed design of the earthmover enables a smooth and fast loaded ride.
The return on investment is best explained by comparing the ADT/scraper combination, with the alternative earthmoving equipment options. The investment on a traditional scraper can be financially straining. On average, the investment into an ADT/scraper package can save the jobsite or mine considerable financial amounts when compared to the purchase price of a new traditional scraper. The ADT/Scraper pairing is a much more "green" and fuel efficient solution for the jobsites and mines. Studies have shown a reduction in the carbon footprint of up to 2.5 Times compared to older traditional equipment. For each K-Tec scraper that is running, it is shrinking the world's carbon footprint by replacing inefficient traditional earthmoving equipment. The result is cleaner air quality and lessening reliance on fossil fuels.
Traditional scraper units typically weigh more, which causes more issues in wet job site conditions, when compared to the paired earthmoving equipment. These factors have forced progressive contractors and mining professionals to look at the more profitable way to move material.
Having an efficient setup of machinery is enabling jobsites and mines around the world to maintain or increase their profits, due to the cost-savings from selecting an efficient ADT/Scraper combination for their operations. To stay ahead of the curve and reap the financial benefits of the marketplace, consider adding a profitable pairing of machinery to your fleet of construction and mining equipment.
K-Tec scraper models range in size from 28 to 63 cubic yards. The scrapers bolt-together design structure, enables shipping via sea container to anywhere in the world.
The business growth that K-Tec has experienced over the last decade suggests that there is a strong demand for efficient earthmoving machinery around the world. K-Tec strives to shrink the carbon footprint of the earthmoving industry, and encourages earthmoving contractors & mining professionals to join in the fight against climate change by selecting efficient earthmoving machinery that will help promote this effort to the construction and mining markets.
Visit www.ktec.com for more information.