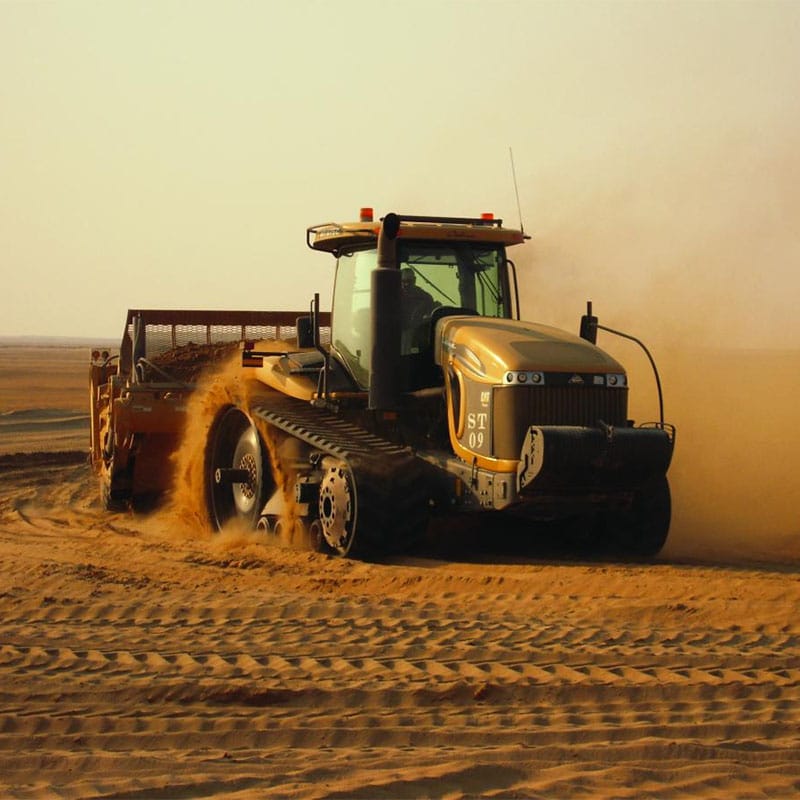 Groundbreaking Innovation
in Scraper Manufacturing
Using conventional scrapers for earthmoving in the Red River Valley's clay-based soil has always been a challenge for farmers and contractors in the region – but K-Tec Earthmovers founder, Ken Rempel, was determined to develop equipment that would meet their needs.
K-Tec Earthmovers is located in the heart of North America's Red River Valley in the town of Rosenort, Manitoba, about sixty-five kilometres south of Winnipeg. Covering eastern North Dakota, northwestern Minnesota and southern Manitoba, the Red River Valley is known for its fertile soil. The valley's farmlands produce corn, soybeans, spring wheat, potatoes and more than half of the sugar beets grown in the United States. However, the sticky, clay-based gumbo soil can be very difficult to move with conventional scrapers.
"I realized how inefficient construction scrapers worked," Mr. Rempel says. "I decided to make a crossover unit to cover more yardage to handle the conditions."
Founded in 2000, as Laser Edge Earthworks, Mr. Rempel parlayed his farming and earthmoving experience to build his first scraper, which was twenty-six cubic yards capacity, much larger than the eleven to fifteen cubic yard capacity of conventional scrapers at the time. "My team was a lot more productive with the larger scraper," he shares.
Throughout 2001 and 2002, K-Tec added high tensile steel and hours of field trials. The design was refined into a durable, lightweight solution to move massive amounts of dirt. By 2003, Mr. Rempel had built five scrapers and began to advertise in trade magazines and attended trade shows. "After that, the phones just started ringing."
When attending the Big Iron Show in Fargo, North Dakota in 2003, he realized he hit paydirt with his larger earthmoving scrapers. "I had no idea just how big of a demand there was for a larger scraper in the market," Mr. Rempel recalls. "Everyone [attending the show] was dying for a bigger machine." The year 2003 was when K-Tec introduced its thirty-six cubic yard scraper, which became one of its most popular models during the initial years.
K-Tec went into full scale production in 2004, producing and selling forty-four scrapers that year. Over time, the company has sold up to one hundred units per year. K-Tec Earthmovers began to sell its scrapers outside of North America to an Australian client. The company also sells its scrapers in Poland and Saudi Arabia and is looking to expand in more international markets.
Years of research and field trials have enabled K-Tec to develop manufacturing and reinforcing techniques that have made a durable pan scraper available for farmers. One notable innovation was the introduction of high-tensile steel that makes for the most durable pan scraper available. Reinforcement with high tensile wear-resistant and structural steels in critical stress areas has established a pounds-per-square-inch stress standard which is significantly greater than many competing scrapers.
"The key thing I focused on was building a larger machine that was lightweight," Mr. Rempel says. "Having worked as a truck driver, I understood that the lighter the machine, the better in order to properly move dirt."
The company sells a broad range of model sizes for any construction project. Its scrapers range from a capacity of twenty-five cubic yards to fifty-four cubic yards and weigh as little as 767 pounds per cubic yard capacity.
K-Tec also sells hitching systems that distribute load weight to take advantage of the pulling unit's power while minimizing stress on the hitching tongue. Most of the company's earthmovers transfer seventy-five percent of the weight to the scraper's axles, to place less stress on the rear axle of the tractor pulling it.
K-Tec's LOAD TEC system works to ensure equal pull occurs between the front and rear axle of a tractor. Balancing the tractor is achieved by adding weight to the front of it, which minimizes the stress placed on the rear axle.
Another way the company's scrapers stand out from its competitors is the fact that its earthmovers were designed to be serviced in only minutes per day. Most scrapers have twelve to twenty-five grease points that must be serviced twice a day. On the other hand, K-Tec's scrapers were designed with two access grease points that require servicing only once a day. The remaining four grease points are on the rear axle and only require greasing every 250 hours (about every three weeks). Greaseless bushings on all of other hinge points can run up to 1200 hours before needing to be replaced. This means a client's labor hours are dedicated to loading instead of maintenance.
K-Tec Earthmovers has reaped the benefits of growth with increasing revenue. Over the past four years, K-Tec has enjoyed significant growth. Mr. Rempel's efforts have not gone unrecognized – he was awarded the Young Entrepreneur of Manitoba Award in 2005. Receiving this recognition enabled K-Tec to establish itself in the region and has contributed to its growth. By 2008, K-Tec Earthmovers was a part of the ConExpo construction tradeshow in Las Vegas. That same year, Manitoba Business Magazine recognized K-Tec Earthmovers as one of the fifty fastest growing companies in the province.
Recent developments include the completion of a new manufacturing facility and a corporate website in 2012.
Mr. Rempel and company CEO, Russel Goossen, say that K-Tec's core values are what have contributed to the success of the company. "We are honest, willing and humble," Mr. Rempel says. "We have those principles posted all over the walls of our offices. We do what we say we're going to do. We've had many repeat customers, good testimonials of our after-sale services and our warranty policies."
The company offers a three-year structural warranty, unusual in the industry. "No one else in the industry has that type of warranty. We've had people who never believe we'd fix older scrapers, but we do."
Another source of K-Tec Earthmovers' strength is its people. The company is led by a team of managers, with Rempel and Goossen each owning fifty percent of the company. "We also have an operations manager, a senior VP of sales, VP of marketing, a service manager, and a chief financial officer," Mr. Goossen explains. "We have monthly leadership team meetings and bi-annual strategic meetings to exchange ideas and determine the direction and goals to set for ourselves and the company and set out to do them."
Having sales representatives who have experience with K-Tec's equipment makes the company stand out. "Our sales reps are more like consultants," says Mr. Rempel. "They are well trained in product knowledge. Many of them use the scrapers themselves, so they are fully aware of their capabilities."
Indeed, this dedication to service extends to everyone. "Our customers get our products when we say they're going to get it. Our vendors are paid on time and they want to continue to do business with us. We treat them as our partners. When it comes to employee relations, we believe that everyone from the guy who sweeps the floor to executive management, everyone's job is important, someone has to do it."
K-Tec recently introduced a new unit at the ConExpo trade show. The Articulated Dump Truck (ADT) scraper was designed with a gooseneck hitch pole, and a quick-attach hook up so thirty percent of the scraper's load weight is transferred directly to the point where the truck is designed to carry weight. Created to be pulled behind trucks, the ADT scraper was designed with the advantages of speed and the versatility to be used as a dump truck with the hitch removed.
The company recently announced an agreement with construction equipment dealership Strongco to be the exclusive dealer to sell its scrapers in Alberta and Ontario. Strongco sells, rents and services equipment used in diverse sectors such as construction, infrastructure, mining, oil and gas, utilities, municipalities, waste management and forestry. K-Tec is an authorized partner by Volvo Construction Equipment for scraper applications. K-Tec scrapers can be attached to both new and used articulated dump trucks.
Other future plans include international expansion into Africa and Europe and the development of a new land leveler. Unlike a traditional scraper, K-Tec's machine, with its new design and flotation tires, does not cause heavy road damage. "This suspension is a plus for saving the roads people are driving on."
With quite a few projects underway, the company and its employees are kept busy, but Mr. Goossen says the business is very mindful in its growth strategy. "A huge challenge of ours is being able to keep up with the demand by hiring people and training them quickly," he shares. "We don't want to jeopardize our product quality just for the sake of growing. We can only grow at a certain speed and still maintain our standards."
K-Tec Earthmovers believes in providing quality equipment to its customers and understands that professional and prompt service is essential to maintaining customer satisfaction and quality workmanship. Rempel and Goossen believe that keeping up with this dedication and commitment is the key to K-Tec's staying power.
"Our goal is to keep doing what we're doing and grow as it is feasible," says Mr. Rempel.
"Our aim is not to be the largest company, but to be the best in scraper manufacturing."
For more information about K-Tec Earthmovers, inquiries or more product information contact sales@ktec.com or visit www.ktec.com
THIS ARTICLE WAS FEATURED IN: