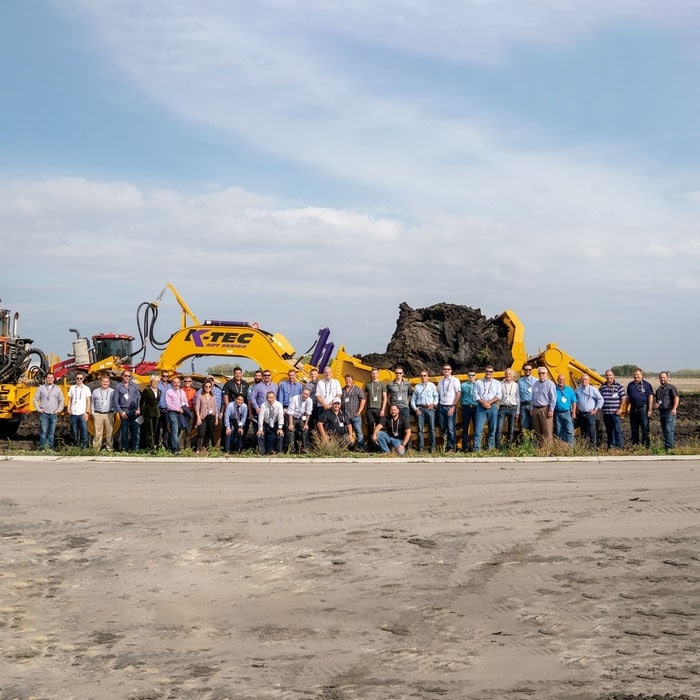 K-Tec Announces
Dealers of Excellence
K-Tec Earthmovers held their first Dealership Network Scraper Symposium event, in Manitoba, Canada on September 17 & 18, 2019. The event hosted 56 professionals representing 22 different organizations, taking time out of their hectic schedules, and traveling from as far away as Japan, Sweden, and Australia to hear the latest advancements in K-Tec's efficient earthmoving product offerings.
As part of the festivities K-Tec Earthmovers Inc. announced the winners of its Dealers of Excellence awards. The awards recognize the highest performing worldwide K-Tec scraper dealers & distributors in business development, product support, and customer service.
THE K-TEC DIRECT MOUNT SCRAPER DEALERS OF EXCELLENCE ARE:
Titan Machinery – Titan Chair/CEO/Founder, David Meyer believes that "A product like this sells itself. The success of the K-Tec product is a testament to the passion and quality of the K-Tec team of employees." Titan Machinery has dealership branches in North Dakota, South Dakota, Minnesota, Wisconsin, Nebraska, Iowa, Colorado, Montana, & Wyoming, USA.
NDK Scrapers Inc. – NDK Scrapers Owner, Nick Kostecki states that "If it wasn't for K-Tec, I wouldn't be where I'm at today. I've met a lot of great people, and I've got a lot of great people working for me because of it." NDK provides K-Tec scraper solutions in 5 states and has headquarters in Spencer, Ohio, USA.
DOM Distribution – DOM's Managing Director, Pat O'Brien points out that adding K-Tec has made a great contribution to their business. "We carry a lot of inventory and parts and its starting to really gain traction in Australia against the traditional pan scraper. The thing I value most about K-Tec is the support. It's amazing what a team can do when they work together." DOM is a distributor headquartered in Dalby, Queensland, Australia.
THE K-TEC ADT SCRAPER DEALERS OF EXCELLENCE ARE:
ROMCO Equipment Co – Romco Owner, Robert Mullins comments that "K-Tec has become a full-fledged, sophisticated manufacturer. The best product in scrapers, and I'm blown away at the sheer size of their tough, strong, reliable scraper. We wanted to give our customers the most cost-effective way to move dirt in Texas with a scraper being pulled by an articulated truck. K-Tec believes in their product and they care about their product." Romco Equipment has statewide dealership locations in Texas, USA.
G.W. Van Keppel Company – Taylor Killion, General Sales Manager CE Group feels that, "When you've got the right product and good pricing and availability, good things happen and that's what we've seen over the past years with K-Tec." G.W. Van Keppel Company has construction equipment branches located in Kansas, Missouri, Oklahoma, & Arkansas, USA.
DOM Distribution – DOM has successfully promoted both the Direct Mount and ADT scrapers, depending on the jobsite applications. DOM has sold and supported K-Tec's ADT scrapers into long haul, hard soil construction, and mining jobsites throughout the countries of Australia and New Zealand.
K-Tec's President & CEO, Russ Goossen appreciates the entire K-Tec dealer network, "The reason for K-Tec's success is surrounding ourselves with good dealers. The dealers for K-Tec know what they are doing; they are successful businesses, and their success is K-Tec's success. We always want to be a preferred vendor that dealers want to be doing business with."
THIS ARTICLE WAS FEATURED IN: