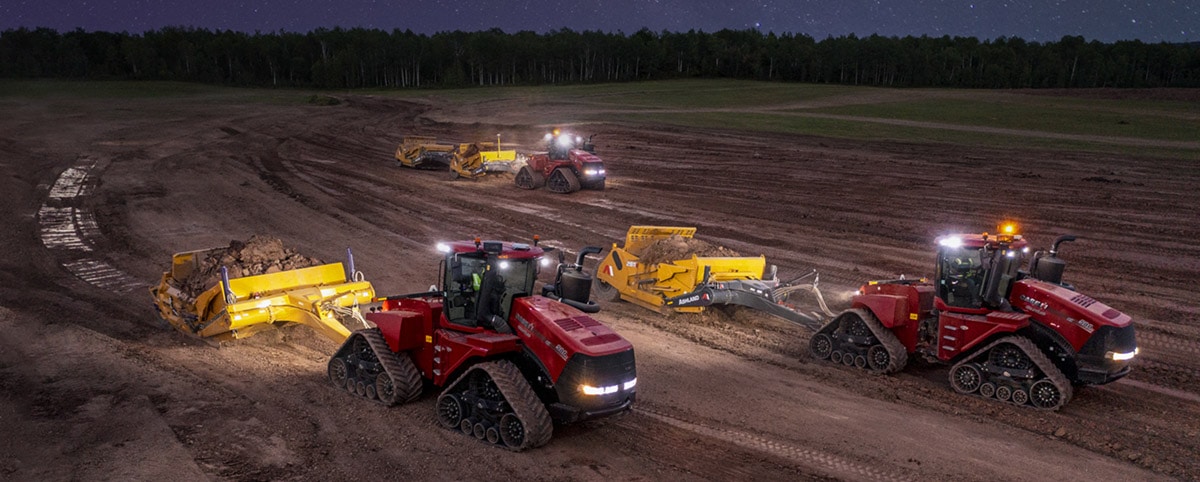 Kinperium Industries Acquires K-Tec & Ashland Equipment Manufacturers
Jan. 31, 2022 – Kinperium Industries ("Kinperium") announced today it has acquired K.A. Group, consisting of K-Tec Earthmovers ("K-Tec") & Ashland Industries ("Ashland"). Kinperium partnered with the owners and management of K-Tec & Ashland to acquire a majority stake of the company. K-Tec & Ashland are the industry leading manufacturers of pull-pan earthmoving scrapers and implements for the construction, mining, and agriculture end-markets.
The two scraper brands previously joined forces in a 2020 merger, providing for production facilities in Rosenort, Manitoba, Canada and Ashland, Wisconsin, USA. With the aggressive growth goals the company has set out, both factories and all current employees are geared up to continue their strong efforts under new ownership. The thriving factories on both sides of the border are each looking to add additional staff to their teams, and future facility expansion projects to fulfill the existing order book of earthmoving equipment.
"Our new partnership with K-Tec and Ashland is truly groundbreaking," said Bill Kostenko, Chairman of Kinperium Industries Inc. "Ashland has a deep heritage of success in the agricultural and industrial construction markets, while K-Tec's quality, rugged earthmoving equipment excels in the heavy construction and mining markets. We believe that these complementary brands are well positioned to expand their industry leading market share, and Kinperium looks forward to supporting the long-term growth of the organization. One of the major factors that attracted us to the K.A. Group is the strength and enthusiasm of management team. We look forward to supporting this existing team to continue the momentum that they have created for the K.A. Group."
Benefiting from a dedicated and knowledgeable global network of equipment dealer relationships, K.A. Group has grown consistently by developing and manufacturing a variety of earthmoving scrapers and implements. K-Tec & Ashland scraper brands have a reputation for innovation and product excellence and are proven to work across a wide range of applications and soil types.
"Kinperium is a family office which focuses on the generational, stable success of businesses." said Mike Palitsky, President/CEO of K.A. Group. "I firmly believe that this structure is exactly in-line with the culture that we are enjoying at K.A. Group today. From the start, we identified Kinperium as our number one partner candidate. We are thankful that we can now begin our working relationship together for a promising future of long-term growth."
"K.A. Group also sincerely thanks our previous owner group, Owner Resource Group ("ORG") for their foundational support, connections, and structure that they established for our company to flourish over the last 3 years."
Kinperium closed the transaction on January 31, 2022. Financial terms of the deal were not disclosed.
About K.A. Group
K.A. Group is comprised of industry leading earthmoving equipment brands: K-Tec & Ashland.
Founded in 2000, K-Tec provides its customers with high quality scraper equipment and earthmoving accessories for purchase through their authorized dealers around the globe. K-Tec offerings include Direct Mount, Train, and ADT scrapers ranging from 28 to 63 cu.yds, and other earthmoving accessories to provide an efficient solution to various heavy construction and mining operations.
K-Tec merged companies with Ashland in March 2020 to become the market leading scraper manufacturer in the world.
Ashland Industries was established in 1953, and produces advanced dolly wheel, direct mount, and dump-style scrapers ranging from 3.25 to 34 cu.yds for the compact, agriculture, and industrial construction markets.
K-Tec and Ashland also offer a variety of earthmoving implements consisting of Land Levelers, Construction Disc Harrows, and other support equipment.
About Kinperium
Kinperium Industries, Inc. is a family office that invests in long term sustainable businesses with strong management teams and potential for growth. Kinperium provides patient financial and intellectual capital to support portfolio companies with market-leading brands, potential for industry consolidation, or synergies with existing investments. Existing Kinperium investments include Blue Giant Equipment Corporation, Blue Giant Lifts LLC (formerly Verti-Lift Inc), and United Rotary Brush Corporation.
K-Tec Media Contact
Shane Kroeker
Director of Strategic Initiatives
K-Tec Earthmovers Inc.
T: 1-204-746-6435
ShaneK@ktec.com