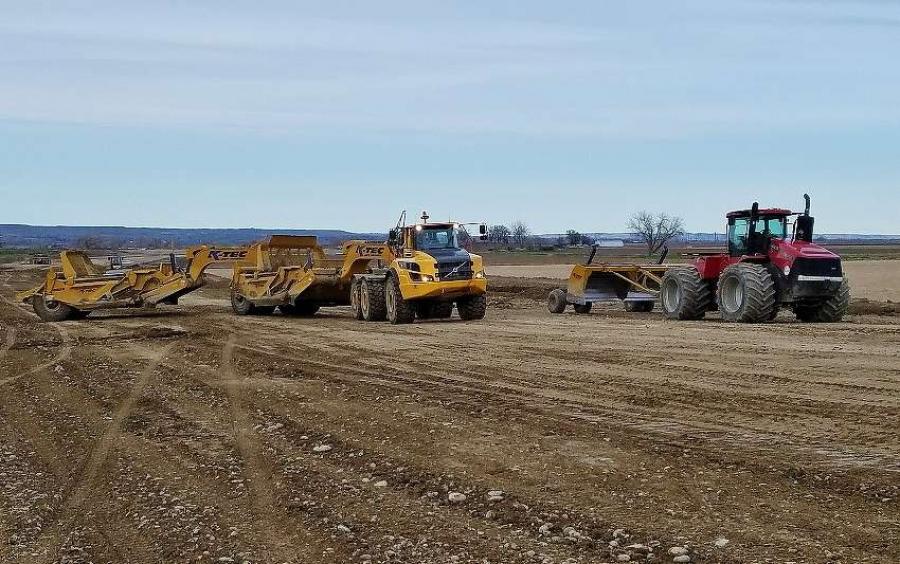 MDT Makes Improvements
on U.S. Highway 212
West Edition #17
Chuck Harvey – CEG Correspondent
Work has rolled into its ninth month on a $23.2 million Montana Department of Transportation (MDT) project to reconstruct about 9.9 mi. of U.S. Highway 212 from Rockvale to south of Laurel. The stretch of highway is located within Carbon and Yellowstone counties. Funding is through state and federal sources.
The project that began in November 2016 and is expected to finish in August 2018, includes construction of a new road alignment. Crews will construct a two-lane roadway, with intermittent four-lane segments between RP 42.5 and RP 52.5.
The next and final phase will include four lanes, two in each direction, throughout segment. Workers also will construct the earthwork and drainage features for the ultimate roadway template of a four-lane divided roadway with a depressed median.
The itinerary does not include bridge construction. However, two large reinforced concrete box culverts will be installed.
Improvements will be made to the road shoulders. Most of the shoulders will be 4-ft.-wide, but 8-ft.-wide shoulders will be available in some sections of the road.
The project started with grading, application of gravel. It proceeds with paving and installation of guardrail, fencing, drainage systems, stock pass culvert, rumble strips, seal and pavement markings.
Third Phase
The first phase, which began in 2014, included the construction of a grade-separated overpass of the BNSF Railway tracks to replace a railroad underpass, and full reconstruction of the existing substandard two-lane roadway alignment at the northern end of the project corridor.
The second phase project included intersection and roadway improvements for the intersection of U.S. 212 and U.S. 310 in Rockvale.
The third-phase extends the highway from the railroad overpass to Rockvale. The new highway alignment will be on higher ground, west of the existing highway.
"The new alignment was necessary due to the many homes, approaches, railroad and environmental impacts along the existing highway," said Lori Ryan, public information officer of Montana Department of Transportation. "The intent of the project is to provide a highway with increased capacity and built to today's design standards.
Ryan added that the old highway will remain open during and after construction.
Nelcon Inc. is contractor for the third-phase reconstruction work. Nelcon also was contractor for the second-phase U.S. 212 and U.S. 310 intersection work that included asphalt paving, pipe and dirt work.
For Phase 3, Nelcon Inc. and its subcontractors have initially focused on grading, culvert installation, irrigation and fence construction.
Subcontractors include Poteet Construction of Missoula, Mont.; Triptych Construction of Glide, Ore.; Fusion Technologies of Billings; Pavement Maintenance Solutions of Columbia Falls, Mont.; Kootenai Surveyors of Libby, Mont.; JCT Construction of Ballantine, Mont. and Highmark Traffic Services of Billings.
About 16 workers are on the job each day including six MDT inspectors and supervisors, and 15 workers employed by the prime contractor.
Materials and Equipment
Crews will apply a total of about 102,540 tons of plant mix concrete.
The project requires excavation of 2.12-million cu. yds. of dirt and includes installation of about 28,000 ft. of various types and sizes of pipe and culvert for drainage.
Equipment at the construction site includes four K-Tec scrapers, K-Tec Leveler, excavators, loaders, motorgraders, rock trucks, rollers, water trucks and bulldozers.
Irrigation System Challenges Crews
A vast amount of irrigation work is part of the highway reconstruction project. It includes 25 irrigation structures and more than 11,000 ft. of irrigation pipe. Irrigation work must be done during the off-season between November and April, when much of the water is in the form of ice and snow.
But heavy snow and frozen ground can be a challenge for construction crews. The just-concluded winter season was a tough one for irrigation work. It included deep snow and extreme-low temperatures that made it difficult to install irrigation systems.
For the link to the full article, please visit: CEG
Photography Credit: Montana Department of Transportation
THIS ARTICLE WAS FEATURED IN: