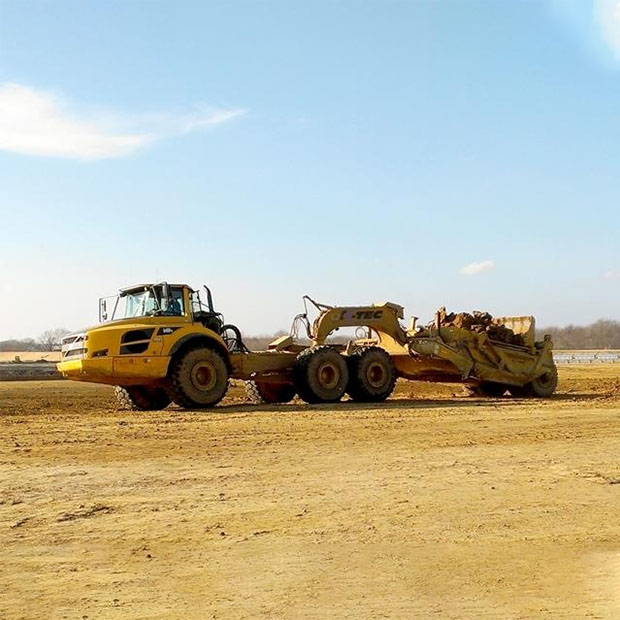 Special Challenges Call
for Special Solutions
Derrick Butterfield – Author
Volvo CE
With a tight timeframe and more than 2.5 million cubic yards (2 675,942 m3) of material to be hauled, the Volvo A40F FS articulated hauler combined with a K-Tec scraper from Canadian manufacturer K-Tec Earthmovers Inc., make for a formidable earthmoving tool.
Close to the town of Macomb, Illinois, USA, Bloomsdale Excavating is currently operating 13 of these units on a major road construction project.
Headquartered in Bloomsdale, Missouri, Bloomsdale Excavating is a contractor operating in the Midwest. In this business for 65 years their main services are site development, heavy civil engineering projects, mining and projects impacting on the environment.
With a long history of completing tough and challenging jobs, this particular project, valued at $ 32 million, was awarded to Bloomsdale in July of last year by the Illinois Department of transportation (IDOT), which will also fund the project, and entails the creation of 6.5 miles (10.5 km) of four lane, divided highway on US Routes 336 and 110.
The Route 336 project will entail pre-grading and drainage structures on a new alignment of Routes 336/110, plus the reconstruction of County Highway 14, which is located to the west of Macomb. It also includes 10 miles (16 km) of grading and clearing and the installation of utilities.
"Bloomsdale Excavating is excited to be part of the Illinois Route 336 project", said Scott Drury, president of Bloomsdale Excavating. "We are looking forward to building strong relationships with IDOT, local subcontractors, suppliers, and the surrounding community. Our team is very motivated and solutions-oriented, making the 'Bloomsdale Way' an experience you want to have again. As the prime contractor, we are required to complete the project in 220 working days, with a lot of work to be done, but projects with tight timelines and high expectations of quality and safety are well within our capability".
The operation
The grading work to be done on the highway itself, plus four miles (6.44 km) of side roads, service roads and ramps involves hauling more than 3.5 million cubic yards (2 675,942 m3) of material, clearing 70 acres (28.33hectares) of land, moving and transporting 161,000 tons of imported rock and more than 400,000 cu. yd. (305,821 m3) of ditch cutting.
The utilities aspect of the project calls for the installation and relocation of approximately 10,000 feet (3040 m) of municipal utilities, including more than 6,500 feet (1981 m) of storm drain piping, 12 box culverts, 82,000 square yards (68,562 m2) of rip-rap (rubble), 64,000 feet (19,507 m) of right-of-way fencing and 120,000 feet (36,576 m) of wick drains, not to mention planting 3,500 trees.
There were 48 machines on site, including 22 Volvo A40F articulated haulers, of which 13 were FS (full suspension) models and 9 standard units. While both can be fitted with a standard articulated hauler body or a scraper; on this site Bloomsdale was using the FS units hitched to K-Tec 1233ADT (33 cu.yd / 25.2 m3) scrapers to move loose dirt and the standard units for other tasks, such as rock hauling.
Bloomsdale has out-competed many competitors with the FS/scraper combination thanks to the advantages it provides. According to Bloomsdale; in the right conditions, productivity is higher than in load and haul operations and it is possible to mix different layers in the ground to get the right compound and moisture content. Productivity is increased as the machines never need to stop. The Bloomsdale operators run 10 hour shifts and have one half hour break during this time. The trucks run approximately 2000 hours per year.
Smooth operators
Volvo's unique full suspension system offers the industry's best ride due to free-flowing hydraulic fluid supplied to the cylinders. The suspension effectively cushions the blow to the K-Tec hitch and, allied to the automatic cushion ride on the scraper itself, makes for a formidable combination in terms of speed, operator comfort and productivity, while at the same time minimizing the risk of equipment damage.
The Volvo/K-Tec partnership agreement falls under the extended product offering Volvo is able to propose as part of their Special Application Solutions program. K-Tec products are approved by Volvo, adhering to Volvo Construction Equipment Body Builder instructions.
The FS-scraper combination is also fast compared to conventional scrapers, hauling at approximately 35 mph (56.33 kph) loaded and with an even greater advantage when hauling empty back from the dumpsite, enabling high cycle speeds. The Volvo hauler also has more rimpull than competitor models, which can struggle during loading and uphill travel. According to K-Tec, efficiency and fast cycle times are key considerations to contractors looking to reduce the cost of moving dirt and this hauler/scraper solution can be as much as 50% cheaper when compared with standard motor scrapers.
K-Tec currently offers scrapers with capacities ranging from 25 cu. yd. (19.1m3) to 54 cu. yd;(41.3 m3), so a higher capacity than standard motor scrapers. They also offer the largest gate opening in the industry, for smoother, faster loading/unloading and also provide a low, large target opening for top loading.
The short turning radius provided by the Volvo/K-Tec combination, floatation tires and a 28" (71 cm) minimum clearance from ground to cutting edge provides for maximum maneuverability and mobility.
The flexibility of being able to convert the hauler/scraper unit to a standard hauler if required, or to reverse the process, in five hours provides the potential for maximum machine utilization and return on investment and can increase second life values with the ability to sell on the hauler/scraper as a unit, or separately.
K-Tec's Load Tec™ system uses a gooseneck hitch pole and quick attach hook, so 30% of the scraper's load weight is transferred to the point where the hauler is designed to carry weight. Lube Tec™ ensures minimal downtime and maximum productivity via the use of only five grease points for the wheel bearings, plus greaseless bushings, allowing up to 1200 hours before replacement. The bolt-on design of the scraper itself allows it to be packed into a standard container for shipment and can be reassembled in 8 – 12 hours. Any special equipment / modification kits required, including the easy-to-use, in-cab mounted, scraper control joystick, are provided by K-Tec.
Overall Bloomsdale is very satisfied with the performance of the Volvo/scraper combination and operators really appreciate the FS units, with one operator stating, "This is the fastest scraper I have ever operated." Supported on this project by the Volvo dealership, Rudd Equipment Company, a representative was quick to add, "If K-Tec builds a bigger scraper, end-users better make sure it's attached to an FS for maximum productivity and efficiency!"
For more information on Volvo's Special Application Solutions go to www.volvoce.com – Special Application Solutions.
THIS ARTICLE WAS FEATURED IN: