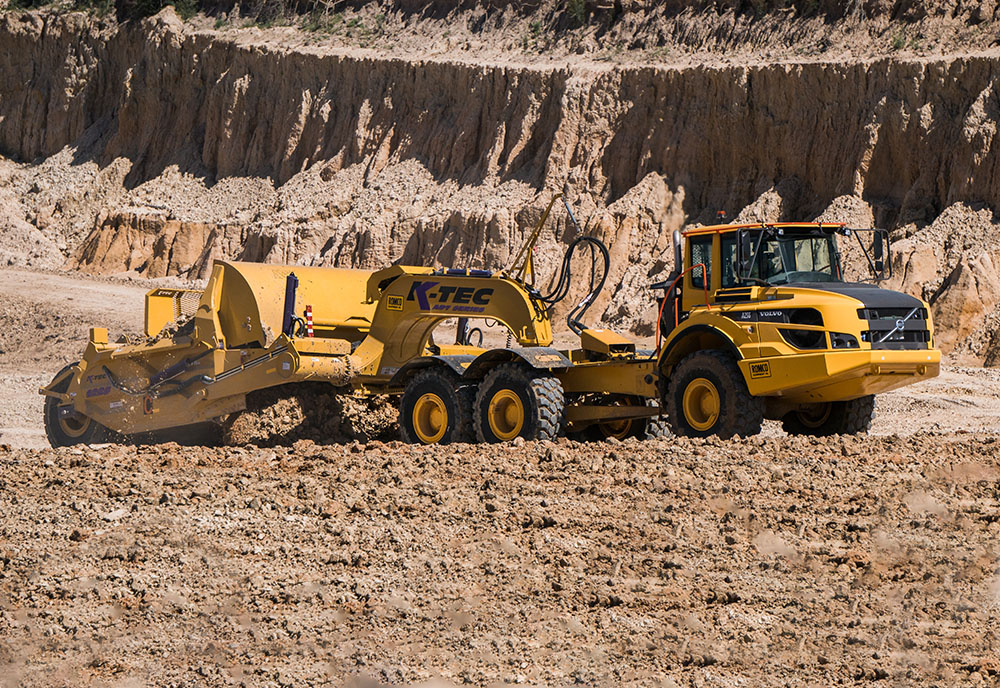 If you're running a construction site and you need to move a lot of dirt, what is the most efficient tool? Is it a motor-powered scraper? How about an excavator and a hydraulic dump truck?
Both of those choices have their merits. But there's another tool that will burn less fuel, require just one operator, and save contractors money when they're moving earth: a tractor-towed scraper.
Why should contractors go with towed scrapers for big earthmoving jobs? Chad Webre, product specialist for scraper systems at John Deere Construction Equipment, points to one big reason: Scrapers cost less to operate. In today's still-tight economy, that's key.
Webre says, "The big value proposition is the low cost of owning and operating towed scrapers. Then there's the sheer volume of dirt towed scrapers can move. Contractors are looking for more economical earthmoving solutions. Towed scrapers provide that."
This doesn't mean, though, that the manufacturers of towed scrapers don't have to educate contractors on this equipment. Many contractors still need convincing that towed scrapers are important tools on their job sites.
This is steadily changing, though. According to Webre, many contractors before the Great Recession hit relied mostly on the combination of dump trucks and excavators to handle their earthmoving jobs. But once the economy began to struggle, these same contractors began searching for lower-cost ways to move dirt.
One answer is towed scrapers. They can load material, carry it, and put it to grade, all powered by one tractor and one operator. With dump trucks and excavators, though, contractors need one machine to dig, one to carry, and then another to grade that pile of dirt. With a towed scraper, contractors can do all that work with just one machine.
That can have a dramatic impact on the bottom-line profits of contractors.
"You can move up to 72 cubic yards of material per cycle with one operator and one power unit," asserts Webre. "You can move the same amount of material that a more conventional earthmoving system can move with about half the labor and a third of the investment. That makes towed scrapers really attractive these last couple of years when times have been tougher."
A Long History
Towed scrapers, of course, are not new machines—far from it. The towed scraper actually got its start in the 19th century, back when they were pulled not by tractors, but by horses.
The pulled scraper has remained a constant of the earthmoving business since then. Of course, the motorized scraper has become a popular alternative, too, among many contractors. But, as Webre points out, the motorized version isn't the right choice for every contractor.
The reason is they're costly. And they don't move as much dirt as efficiently as does a towed scraper. "If you take a self-propelled machine, before you get to moving any dirt, you are looking at paying a lot in upfront costs. A motorized scraper is an incredibly expensive machine," explains Webre. "One of the more popular versions will move about 44 cubic yards of material per cycle and cost you about $2 million. That is an expensive rig. Our towed scraper can move more. And you are able to get into that rig for about a third of that initial investment. It is cheaper to buy and it is cheaper to operate. You are more productive because you are carrying more material."
Kelly Goossen, senior vice president of sales for K-Tec Earthmovers Inc., says that contractors understand that towed scrapers can help boost their bottom lines. And when it comes to choosing equipment, saving money is a main feature that contractors consider.
The result is a bump in the popularity of towed scrapers. "The ability of a towed scraper to load itself, carry material and place the material where it needs to be is essential to any job site," says Goossen. "Contractors will tell you that they can't move dirt cheaper with any other method. Because of that, there will always be a strong market for towed scrapers."
Goossen reveals that not all contractors have always appreciated the value of towed scrapers. Before the country's economic downturn, a growing number of contractors did indeed turn to excavators and dozers to handle much of their earthmoving needs. Many contractors felt that these machines weren't as specialized as scrapers were, and could take on a wider variety of the tasks necessary to finish grading and excavation jobs. These same contractors thought that because excavators and dozers could handle more jobs that they were a better investment.
Many contractors changed their opinions when the recession began eroding their annual profits. Contractors realized they couldn't run as many machines on their jobs and hire as many operators to run this equipment without putting additional strain on budgets that were already stretched to the limit.
The towed scraper suddenly looked like a better alternative because it could move so much dirt at a lower operating cost. At the same time, the technology behind towed scrapers has improved. Contractors can now use these machines all year long and on a wider variety of job sites.
"Everyone took a double take when we hit the recession," explains Goossen. "They realized that they had to be more efficient. They knew they couldn't always have their whole fleet available on every job site. That just didn't make good economic sense. You don't want to have three engines burning fuel if you don't need to. During the recession, jobs were being bid out at lower prices. Contractors needed to find a way to be more efficient because of this. That is when they turned back to the scraper market."
Goossen maintains that towed scrapers have filled an important niche in the earthmoving industry. In the past, contractors could either purchase a motorized construction scraper or an agricultural scraper pulled by a tractor.
The self-propelled scraper was too costly for many contractors. It also wasn't inexpensive to buy a tractor that might only be used to pull an agricultural scraper.
The towed scraper that can be pulled by a standard rock truck gives contractors a more affordable alternative, an alternative that can tow larger loads than motorized scrapers. "There had to be a market for a scraper that can serve those contractors who want to use a construction scraper, and also use a tractor or rock truck as a power unit," explains Goossen. "Now a contractor can buy a scraper and fill the market that the ag scraper or the motor scraper previously filled. This innovation has provided a boost in interest to the entire scraper industry."
Scrapers have become more efficient over time, too. Today, scrapers can load material while using less horsepower. In the past, contractors would often face challenges when trying to remove material from their scrapers. They preferred using a dump truck, which required only lifting up a bed to remove material.
Today, though, the apron on scrapers can open up and away instead of just up. The material inside it, then, is pushed out. "That makes it more efficient to remove material from inside the scraper," continues Goossen. "You can load and remove more difficult material. In jobs where you were working with wet material, you would have opted for a rock truck and excavator. Now, you can go in and use your scraper. One operator can do all the work on the site. You won't have to move in an entire fleet of excavators and dozers."
Webre says when it comes to versatility, "the sky is the limit" for towed scrapers. Contractors are using these machines on big highway projects and small residential ones alike. They work well for agricultural applications such as precision land-leveling and for mining jobs. And according to Webre, mining has become an especially important niche market for the towed-scraper industry.
"Mining has been hot for us," he says. "There is a lot of dirt to be moved in mining applications, and towed scrapers are an efficient way to move this dirt."
He isn't surprised at how popular towed scrapers have become for contractors hoping to squeeze more profits out of their businesses. "Compare towed scrapers to trucks and excavators. You need a specialized machine to dig, a specialized one to carry, and then something has to come over to put that pile of dirt to grade," says Webre. "You don't get that with towed scrapers. With towed scrapers, you do all of those jobs with one machine."
Towed scrapers are flexible, too. Contractors can direct-load the machines if they prefer. If conditions get too wet, they can instead top load them with the help of an excavator. Contractors can even push-load towed scrapers if they are working in challenging conditions, Webre says.
And he points out, "If you get into a tough environment where you might have a lot of tire slip, push-loading is a good choice. You can just push a button and the scraper can load itself. There's not a whole lot that these towed scrapers can't do today."
Towed scrapers can also work in most any construction environment, since they can handle sandy, loose, and wet soil conditions. "That is the message that we are trying to send: That towed scrapers are flexible, versatile, and efficient."
Webre goes on to say, "A lot of new competitors are moving into the market. That is a good sign for the industry. There is still more work to be done, though, when it comes to promoting towed scrapers. We want to get newer customers that are operating more conventional systems, such as self-propelled scrapers, to take a look at towed scrapers. There is a lot of meat left on the bones when it comes to the promotion of towed scrapers, so to speak."
Savings
Contractors will burn less fuel if they rely on a scraper to do the jobs that excavators and dozers previously tackled. Fuel prices are lower today, so contractors aren't necessarily as inspired by the promise of burning less gasoline.
But they are enticed by the thought of relying on fewer operators to move their earth. And that's a trick that towed scrapers can pull off.
Goossen says, "The promise of having just one operator running one machine is a strong selling point. You can take one unit and enjoy such improved efficiencies. You have one operator and just one engine burning fuel. A lot of contractors are looking at that equation. Contractors can bring in scrapers and do the work that they traditionally have completed with a lot more people and still move more material at the end of the day."
With this equation at work for them—fewer operators, fewer machines, and more earth moved—contractors can make lower bids for projects because their costs of completing jobs is lower. These lower bids can help them win more jobs, improving their yearly profits.
"There has been a greater demand for scrapers since the recession," according to Goossen. "Because of the recession, we've been able to get into a lot of bigger, newer businesses. Without the recession, these new customers would have continued to use their existing equipment. But now they have to look for a more efficient way to move materials. We are continuing to market to contractors that towed scrapers are an affordable choice. We are doing all that we can to highlight that we do provide a cheaper solution."
Maintenance, Training Matters
Operators and owners can take steps to make sure that their scraper systems run as efficiently as possible for as long as possible. It starts with daily inspections, he says. If operators take the time to inspect their scrapers each day, they'll increase the odds of uncovering a possible machine issue early. Owners and contractors can then address the issue early before it becomes a more expensive fix.
According to Gerhold, it's also important for contractors to provide their scraper operators with the training they need to operate their machines efficiently. Too many contractors skimp on this important step.
Operator training will help insure that the machine is operated correctly and the way it was designed to operate. Training can be hard to track on the balance sheet, but the long-term health of any machine can be improved if operator training is part of the customer's business model.
K-Tec Earthmovers' Goossen states that maintenance isn't a difficult job for K-Tec scrapers. His company's scrapers feature one to two hinge points at their fronts that operators should grease every day. They also feature four hinge points at the rear that contractors should grease four times a month.
"The maintenance is, literally, 10 minutes a day," claims Goossen.
Operators, once they complete their greasing, should then walk around their scrapers. During this brief inspection, operators need to check the tires on their scraper for damage or for any signs of physical damage to the actual body of the machine.
Goossen also recommends that at least once a month contractors wash their scrapers and give them a more thorough examination for possible damage. The monthly washing should eliminate the buildup of any dirt or dust.
John Deere's Webre agrees that maintenance is not much of a hurdle when it comes to towed scrapers. He recommends that operators perform a daily walk-around and that they check their daily grease points. Operators should also make sure that lubricant levels are high enough and that there is enough air pressure in the tires.
"A daily walk-around can save you a lot of headaches," says Webre. "That is the first step to maintaining a towed scraper."
It's important, too, for contractors to work closely with dealers to make sure that they are purchasing the proper towed scrapers for their jobs. Contractors that are taking on a job in rocky conditions, for example, should avoid rubber-tracked scrapers tractors. Those working in excessively loose and sandy conditions should work with a rubber-tracked scraper tractor instead of a wheeled scraper tractor. Wheeled machines will slip in these conditions.
Webre states, "Being able to configure the right setup for the right set of conditions will play big in the longevity of the machine."
Contractors today are increasingly turning to scrapers for their jobs. And, he expects this trend to only continue. "The demand does fluctuate with the construction economy," he says. "Demand for scrapers is just as sensitive to the economy as it is with any other piece of equipment. But today, we see towed scrapers being used in a much broader range of applications."
Only a decade ago, scrapers were primarily used on highway and agriculture jobs. Today, contractors are relying on scrapers for a far wider range of jobs.
"We know that there is a broader range of customers out there that are paying attention to our product," sums up Webre. "The demand for towed scrapers is definitely on the rise."
THIS ARTICLE WAS FEATURED IN: